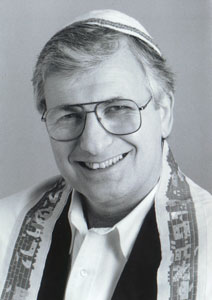 Sofer and artist Neil H. Yerman grew up in Brooklyn, New York. After a career in the brokerage industry and in advertising, he converted his lifetime avocation as an artist into a full-time career in 1984, specializing in works that combine calligraphy and art.
In 1987 he was asked to restore ten Sifrei Torah by Temple Sinai of Roslyn. This assignment launched him on a career as a sofer (scribe) and teacher of Torah, specializing in working with Reform, Reconstructionist, and Conservative congregations.
In 1993, Sofer Yerman was commissioned by Congregation Emanu-El of the City of New York to write a new Sefer Torah for the congregation's 150th anniversary. Since then he has written several other Torah scrolls, including a Sefer Torah for the Women of Reform Judaism. This scroll was dedicated in December 2001 at the WRJ Biennial in Boston. He is currently writing a new Sefer Torah for Stephen Wise Free Synagogue in New York City.
A unique feature of Sofer Yerman's work is the educational experience he offers to the communities with which he works. A Master Teacher who is comfortable working with people of all ages, and of all faiths, Sofer Yerman's educational focus is to foster a love for both the physical Torah and for the letters of wisdom it contains. He is skilled in the art of Gematria (Jewish numerology) and uses this technique and its Kabbalistic underpinnings, when appropriate, to open up new worlds of meaning and understanding of the Torah, Jewish life, Jewish living, and the universal concepts of peace, justice, and tikkun olam—the healing of the world. An accomplished clarinetist, he often uses music as a teaching tool as well.
Sofer Yerman has done ground-breaking in the teaching of Torah around the world. In Germany, he made it possible for Jewish immigrants from the Former Soviet Union to write in the Torah for the first time in their lives. He also worked with German Christian groups to encourage a better understanding of the many values, based in the Torah, that are shared by Christians and Jews.
In the summers of 2002 and 2003, Sofer Yerman served as the Fine Artist in Residence at the famous Brandeis Collegiate Institute (BCI) in Simi Valley, California. Working with Jewish college students, Sofer Yerman helped them explore their connection to Judaism and their spirituality through a variety of artistic modalities.
Sofer Yerman's work was most recently been featured in May, 2008, on the CBS television special "Symbols and Sanctity: The Objects of Religion." He has also been profiled in newspapers, magazines, radio, and television programs in the United States and Europe, including the The New York Times, CBS's "Sunday Morning," PBS radio, and the PBS television series "Religion and Ethics." In 2003 he was honored by the Academy for Jewish Religion with its Torah Leadership Award.
Sofer Yerman has worked as an artist and sofer for many organizations in the United States, Canada, and Europe, including Hebrew Union College–Jewish Institute of Religion, the American Friends of Hebrew University, the Union for Reform Judaism, Women of Reform Judaism, the Jüdische Gemeinde Hameln in Hamelin, Germany, and the Union of Progressive Jews in Germany.
His congregational clients for the creation of new Torah scrolls, the restoration of Torah scrolls, Holocaust Scroll restoration, and community-based education include Reform and Conservative synagogues of all sizes throughout the United States, Canada, and the Virgin Islands. Sofer Yerman's art is multi-dimensional. His one-of-a-kind illuminated art includes ketubot (Jewish wedding documents), family trees, baby-naming documents, and other life cycle documents. In 2005, the Jewish Community Center in San Francisco featured his work in a show that highlighted the art of the three faith traditions descended from Abraham—Judaism, Catholicism, and Islam. His work was included in a similar show in 2003 at the Interfaith Center in New York City. His original art is in collections throughout the United States.
In addition to exploring new ways in which the art of Hebrew calligraphy can delight and inspire us, Sofer Yerman is presently working on the conceptualization and development of healing and meditation spaces. He is in residence at Sinai Free Synagogue in Mt. Vernon, New York.
---